Wonho is back with a new EP titled Blue Letter. What did blue mean to him? Wonho Blue Letter EP is released on September 14th 2021 with the title Blue Letter. The album contains 7 tracks including Intro:Seasons and Patterns, BLUE, No Text No Call, Come Over Tonight, 24/7, Stranger, and the English version of BLUE.
This album represents a letter to those who are feeling lost, depressed or having a hard time. He hoped that everyone who listens to his album will get positive energy and good vibes. He wished listeners to gain strength to overcome what they are going through.
Can You Feel the Blue? Title Track of Wonho Blue Letter EP
'Can you feel the blue?' BLUE is chosen as the title track for this newest album. The song is a fresh and fun song that shows his excellent voice. Wonho released a music video for the title track BLUE on his YouTube channel on September 14th. The concept is about youth like sport, holiday, and love. In the music video, it clearly shows the colour blue all around. The blue color expressed the concept for this song and album.
Wonho No Text No Call
In an interview with NME, he shared that his personal favourite song from the album is No Text No Call since it was the first song he made for the album. No Text No Call helped him to create the whole mood of the album. Since it is an English song, he hoped his international fans could listen to the album comfortably.
He chose the colour blue as his concept because his fans reminded him of blue. Blue has become his signature colour and the fans are loving it too. It is a colour that best represents the emotion he felt.
Wonho Blue Letter Physical EP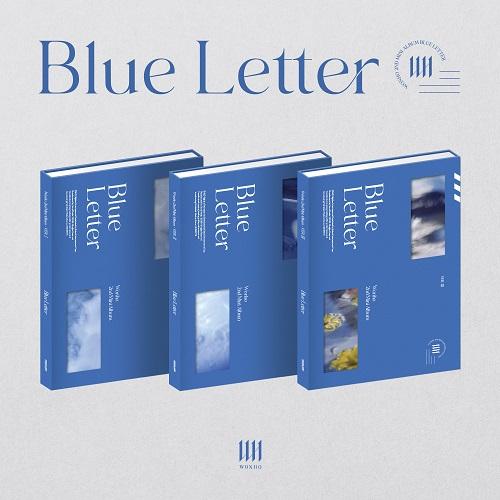 There's also a physical copy for Wonho Blue Letter EP that contains sleeves, photo book, CD-R, photocard, accordion postcard, folded poster and bookmark and message card for the pre-order benefit. The album has 3 versions that cost $14.35 each. The album is available to purchase in Korean online record stores.
Wonho Profile
Lee Ho-seok or known as Wonho is a Korean singer who were member of Monsta X. Now he's a part of Highline Entertainment that also consist Pluma and M1NU among many others..He started his solo career in 2020 with a solo album titled Love Synonym #1: Right for Me. Up to 2021, he has released two full albums and several singles and one EP. He has collaborated with international artists such as Kiiara. 
Listen to Wonho Blue Letter Spotify and Apple Music