After the news of MAMAMOO Wheein not renewing her contract with RBW Entertainment, Wheein The L1ve announced by. RAVI, the CEO of THE L1VE, Wheein is the second artist to be revealed as the member after the proficient singer Ailee.
On July 11, 2021 RBW Entertainment released a press release telling that Wheein was not renewing her contract with them. She will continue the activity as a member of MAMAMOO until December 2023. The agency also stated that they are respecting her choice and fully support Wheein who wants to start a new chapter of her own life.
Later on July 28, a rumour was spread that Wheein is about to sign a contract with H1GHR MUSIC Records, a hip-hop label established by Jay Park. But then the representative of Wheein gave voice to the rumor by denying it. They also stated that it is true Wheein got plenty of offers from a few labels but nothing has been decided yet.
THE L1VE Alerted The Public By A Breaking News Poster Of Their New Artist
On the other hand, THE L1VE shocked the public by the news of them recruiting the second artist of the label. RAVI uploaded a poster about the notice of their new artist announcement on August 30. Most of the public reacted to the news saying that it has to be no one but Wheein. On the next day, Wheein was finally revealed as the new member to be joining THE L1VE Label.
Wheein The L1VE | Ravi Welcome the New Member of Agency
Surely the public reacted to the news in a positive way especially Wheein fans in which they will always support the artist at all cost. Wheein THE L1VE uploaded profile photos of Wheein as the mark of her joining her new family THE L1VE Label. Most of the fans also speculate that the photos are also taken for Wheein's upcoming project. With Wheein joining THE L1VE there are 2 artists in total under the label after a month being established by RAVI.
Dindin Making sure that The L1VE take care of Wheein.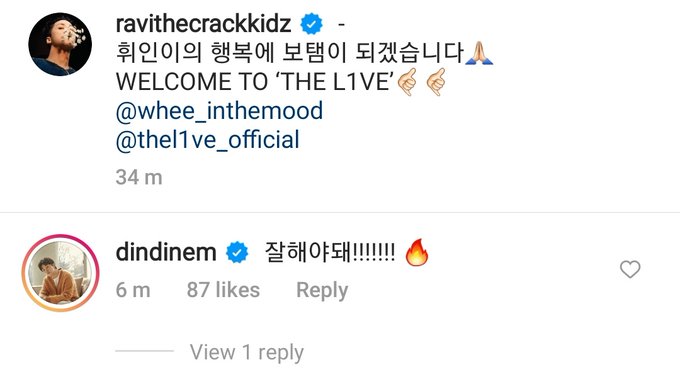 Dindin, a rapper close to Wheein and also Ravi castmate on 2 Days 1 Night also reminding Ravi to take care of Wheein The L1ve.
Wheein Profile
Jung Wheein or better known with her mononym Wheein is a member of a South Korean girl group MAMAMOO who had just signed to THE L1VE, a label established by RAVI of VIXX. Wheein debuted with MAMAMOO under her previous label RBW Entertainment in 2014 with a song Mr.Ambiguous. On April 13, 2021 Wheein released her solo mini album "Redd"
The Official Music Video Of Water Color From Wheein Solo Mini Album "Redd"
Can't wait for Wheein The L1VE activities!