SMTM 777 Winner Nafla! Just like 777, a number of luck in South Korea, this season brings luck to the eventual winner.
Nafla Profile
Nafla or Choi Seok-Bae or Nicholas Choi is a South Korean rapper who won SMTM777. He is a South Korean-American rapper that moved to South Korea with his previous labelmates, MKIT RAIN. Nafla said his name came from 'natural flavor', a friend suggested it to him after reading it in a bottled drink.
Appearing in SMTM777 was his intention to get more recognition for his label MKIT RAIN. Nafla and MKIT RAIN was already known in Korean Hip Hop scene, but they didn't have much attention from the public. So that was why Nafla and Loopy, his labelmates, decided to join SMTM777.
Before SMTM777, Nafla was famous for his song Wu that was released in 2015. This is the song that brought Nafla to place himself in Korean Hip Hop scene. The hand sign were a homage to Wu-Tang Clan, everyone who knows hip hop knows about them.
SMTM 777 Winner Nafla Journey, 1st preliminary Round
In the first Preliminary Round, he was judged by Giriboy. Nafla chose Giriboy by himself to judge him, and he passed to the second round.
Nafla's second Preliminary Round was a total game changer. He brought his verse from his song, you gon need it with a beat from Luke White, riot.
He got 18.500.000 amount of money from producers, and became the first rank in this round.
Road to SMTM 777 Winner Nafla: 1 vs 1 vs 1 battle vs EK & Bully da Ba$tard
In the 1 vs 1 vs 1 battle, he had to beat EK and Bully Da Ba$tard to pass the round. This was a big match since the three of them are good. Nafla passed this round after they showed a great performance.
The next round is the funniest round in the season 777. Since Nafla got the highest amount of money, he became the leader for the Group Competition against SUPERBEE team.
Iconic Group battle Of SMTM 777
Nafla group showed a very witty performance and they made the battle fun. They prepared everything from dance until concept, really showing their good team work. Nafla team won the battle after getting 2 points from the producers.
Team Mission: Swings & Giriboy Team
SMTM 777 Winner Nafla Song Battle Round they performed a song that was produced by GIRIBOY, SF Skill. This song has science-fiction-like and they even wore a scientist outfit like huge goggles and all. Finally, it is the time for them to choose the producer. After being wanted by 3 producers, Nafla joined the Swings and Giriboy team with OLNL, ODEE, and YunB.
Nafla vs Chaboom Diss Battle
Moving to the next round, it is finally the Team Diss Battle Round. He was against Chaboom from Deepflow and Nucksal team. He rapped to a beat from Notorious B.I.G Who shot Ya?
Nafla won against Chaboom. He is moving to the next round of competition. SMTM 777 Winner Nafla finally reached the official stage where he can perform a full song.
SMTM 777 winner Nafla biggest Hurdle, Vs Keem Hyoeun with Dok2 & Deepflow
Nafla was the only one who didn't feature an artist in this round. He performed bite by himself against Keem Hyoeun who was featured with Deepflow and Dok2.
He made the stage red and showed his powerful boom bap rap. All the audience enjoyed the stage and was captivated by his performance. The other contestants and producers were also amazed with Nafla's power.
Nafla won the 1 vs 1 battle with Keem Hyoeun and he advanced to the next round, Semifinal.
Nafla Semi-Final
He bring his most iconic track, Wu and a song titled SUNBBANG. He performed with Gaeko from Dynamic Duo, they have a similar vibe and everyone agrees they also look alike. He was against pH-1 in this last round before final. pH-1 sang Orange with his labelmates and CEO, Jay Park. This was also a 1 vs 1 battle, so whoever lose will immediately eliminated from the show.
Nafla won against pH-1 and this made his place in the Final Round. His component in the Final Round is Loopy who beat SUPERBEE and Kid Milli who beat OLNL.
SMTM 777 Winner Nafla final steps
In the final stage, all the contestants have two songs to perform to get the title of winner. Nafla performed Buckle with Zico for his first performance. The song is upbeat and highlights Nafla unique flow
For the second performance, he featured with his producers Giriboy and Swings in Pick Up Man. This is the last song he sang in his SMTM777 journey.
SMTM 777 Winner Nafla!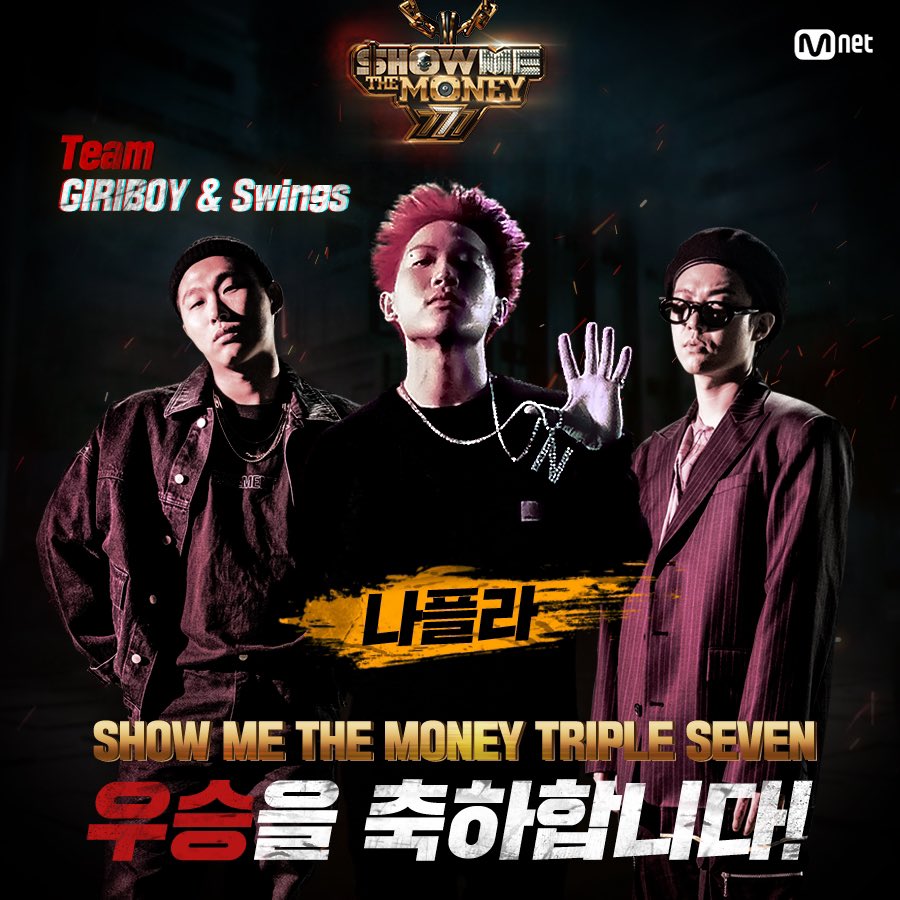 It was finally the time to announce the winner of the season. After all the voting from text message and audience were calculated, Kid Milli won the third place, Loopy in the second place and Nafla became the first place in this season.
Nafla immediately hugged Loopy after he was announced as the winner. Remembering their goal to bring MKIT RAIN to the public, Nafla and Loopy achieved it by winning the first and second place.
Nafla SMTM 777 Winner Prize, Gave the Car to best friend Loopy
As a price of SMTM 777 Winner Nafla won 200 million KRW prize money and a SUV car. Later, Nafla showed his friendship and gave the car to Loopy. Dingo made an episode when they received the car prize.
Nafla Post SMTM 777 Activities
After SMTM777, Nafla released two albums that surprisingly had a very different style with what he showed through SMTM777. He released two RnB albums, u n u, Pt. 1 and u n u, Pt. 2 in 2020. People didn't imagine Nafla would do this since they expected him to have boom bap type of songs, just like in SMTM 777. But by releasing RnB albums, he proved himself to be flexible and able to express his music in several ways.
SMTM 777 Winner Nafla now is a part of Groovl1n agency. He haven't be back yet but already tease us with a soundcloud release. Many fans were waiting patiently for Nafla to be back in the Music Industry, Hopefully he take his time for creating new music and interact with listener once he's ready.
What do you think of SMTM 777 Winner Nafla Journey? Let us know in the comment section below!
Meanwhile follow Nafla on Spotify and Apple Music