Just like 777 the number of luck, Show Me the Money is coming back again with the stronger producer line. SMTM 777 Producer line brings luck to the contestant since they will work with artists who are so good. All the producers in this season are the best in the game. Let's get to know more about them.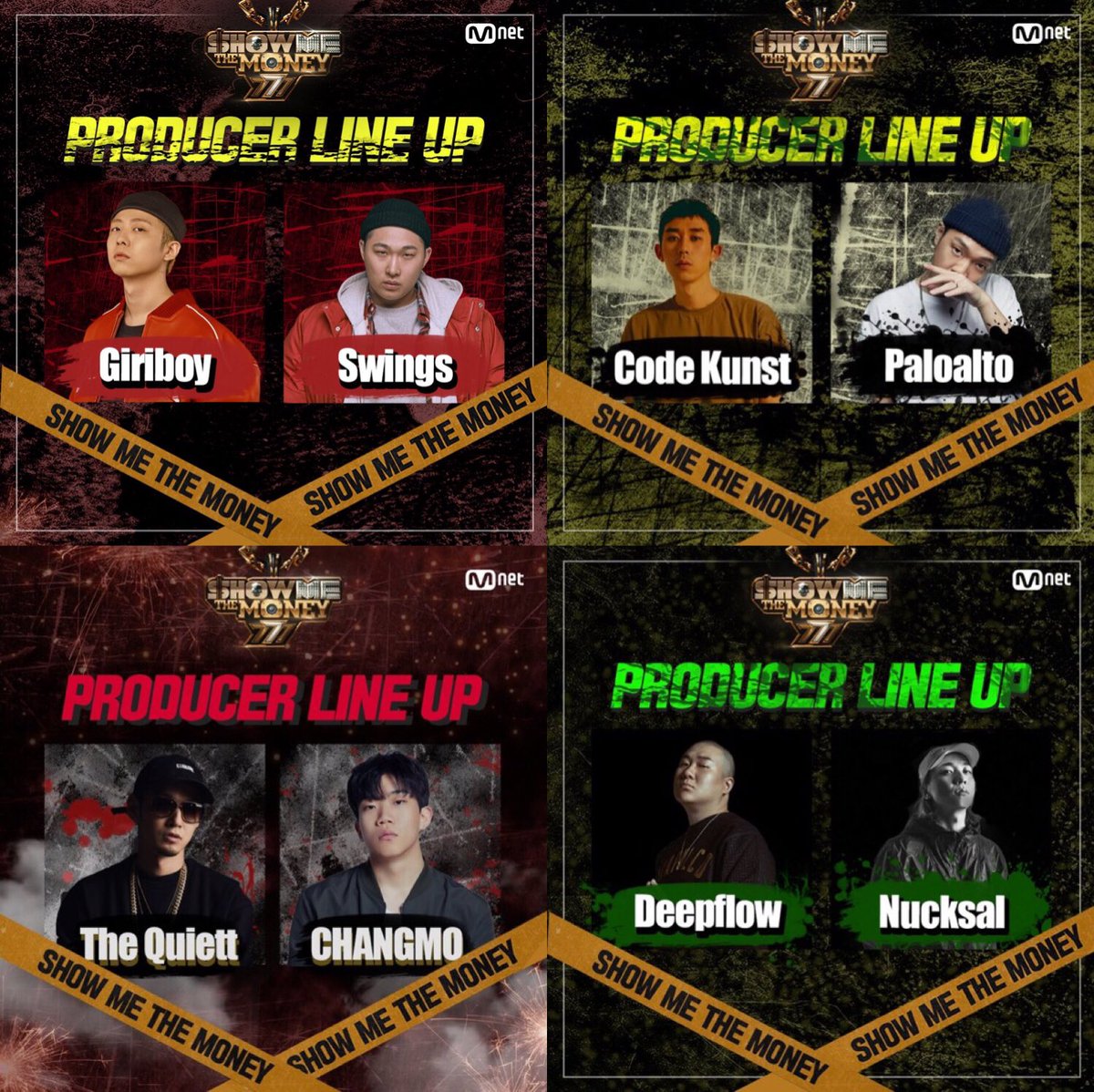 SMTM777 still remains as the favorite season of anyone among all SMTM seasons. This season was a special 777 (triple seven) that changed almost all the systems about the competition. In the First Preliminary Round, the contestant can choose which producer they want to be judged. There was also a Team Battle Round that was different from the Diss Battle Round. The team selection process was easier and didn't give so much pressure. Also in this season, there was no Mic Selection Process. The rappers competing have a worth money to collect where the rapper who has the highest amount will win the competition.
SMTM 777 Producer Cypher
Before SMTM777 started, Mnet posted a producer cypher as the teaser for this season. This video showed all of the producers' performances. Started by Giriboy and Swings, Paloalto and CODE KUNST, The Quiett and Changmo, and ended with Deepflow and Nucksal.
SMTM 777 Producer team: Giriboy Swings
The first team we talk about is Giriboy and Swings team. Giriboy or Hong Si-yong is a rapper and co-CEO of WEDAPLUGG Record with Swings. He appeared in SMTM3 as a contestant. SMTM777 was his first time becoming a producer.
Swings or Moon Ji-hoon is a rapper and CEO for Indigo Music, Just Music and WEDAPLUGG Records. In 2021, he signed with PNation. Swings participated in SMTM2 as a contestant, SMTM3 as producer, SMTM777 as producer, SMTM8 as producer, and SMTM9 as contestant.
Both Giriboy and Swings have known each other since Giriboy used to be in Swings' Just Music label. Giriboy made his debut under Just Music with the single You Look So Good to Me. Giriboy and Swings collaborated together in the song Camp.
SMTM 777 producer Giriboy & Swings team member:
SMTM 777 producer Team: The Quiett Changmo
From Ambition Musik label, The Quiett and Changmo joined the season. This was the 3rd time The Quiett became the producer for SMTM. He used to be paired with Dok2 in season 3 and 5. Together with Changmo, this will be the first time an Ambition Musik representative came to SMTM.
The Quiett or Shin Dong-gab is a rapper in 1llionaire Records, CEO of Ambition Musik and Daytona Entertainment. He is a veteran rapper that has been in the industry for years. Changmo is a rapper who became the start of Ambition Musik, he was in the formation of Ambition Musik with Keem Hyo-eun and Hash Swan. The three of them were the beginning of Ambition Musik journey with The Quiett and Dok2.
SMTM 777 Producer The Quiett & Changmo Team member
SMTM 777 Producer: CODE KUNST Paloalto
The next team we are about to talk about is the only team with a rapper and a producer. Meanwhile the other group has two rappers, this team only has one. But this didn't stop them from producing good songs and helping their team members in the competition.
CODE KUNST, an AOMG producer paired with Paloalto, a veteran rapper and the CEO of Hi-Lite Records. This was the first appearance of CODE KUNST in SMTM. Meanwhile, this was the second time Paloalto became the producer for SMTM. Paloalto was a producer for SMTM4 with Zico. In season 4, the song he made with Zico, Turtle Ship gained a lot of attention.
Two years after SMTM777, CODE KUNST and Paloalto came back again as a team together in SMTM season 9. They are coming back with more songs and performances.
SMTM 777 Producer team Code Kunst x Paloalto team member:
SMTM 777 Producer: Deepflow Nucksal
From VMC, Deepflow and Nucksal teamed as a producer. Deepflow is a rapper and the CEO for Vismajor Company. He is in a hip hop group Damoim with The Quiett, Simon Dominic, Yumdda, and Paloalto. Nucksal is a rapper under VMC. He is the runner up of the previous season, SMTM6. Nucksal also actively works as an MC for High School Rapper and other shows.
Both Deepflow and Nucksal have worked together like in the song Jakdu that received a lot of attention. This was the first time both of them were the producers for SMTM. Deepflow has experience becoming the mentor for High School Rapper season 2.
SMTM 777 Producer Deepflow & Nucksal team member:
If you participate in the season, which SMTM 777 producer team do you want to join and why? Tell us your thoughts below!