Lee Hi the accomplished singer-songwriter came back and grant her fans with a full-length album in the second half of 2021. This time bring out the whole 10 sterling tracks for the album Lee Hi 4 Only. The full-length album of Lee Hi was released in September 9 with 2 pre release tracks, Only and Savior (Feat. B.I). There are in total 4 MVs released for the "4 Only" album.
Lee Hi 4 Only Tracklist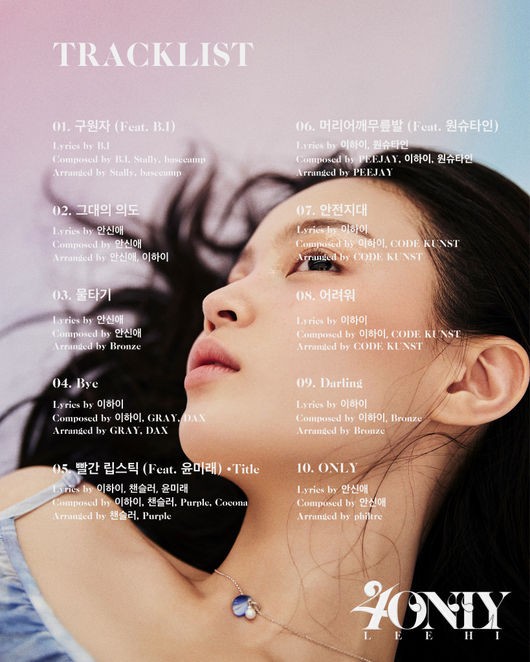 Savior feat B.I
Intentions
Waterride
Bye
Red Lipstick feat Yoon Mirae
H.S.K.T feat Wonstein
Safety Zone
What is Love?
Darling
Only
Lee HI 4 Only is the second full-length album to be released in AOMG in 2021 after "grayground" by Gray. This makes the album become Lee Hi major release under the label since she signed. Lee Hi was actively participated in writing, composing, and arranging 7 out of the 10 tracks on the album. Lee Hi is expected to unveiled her  matured side even more by taking part in the making process directly.
Red Lipstick – Lee Hi (Feat. Yoon Mirae), The M/V Unite AOMG Family To Support Lee Hi 4 only album
On September 9, finally the third full-length album of Lee Hi was officially released to every music streaming platform. The music video of Red Lipstick, in which is the title track of "4 Only, also dropped on AOMG youtube channel. The Red Lipstick M/V successfully attracting public's notice by starring her AOMG labelmate such as Jay Park the CEO, Gray, LOCO, Simon Dominic, Code Kunst, DJ Pumpkin and Korean Zombie.
Lee Hi is proving her wide range of musical abilities through her latest full-length album "4 Only". Some tracks from the album also successfully swept the top of various music charts straight away after its release, verified the capability of Lee Hi to captivate the public with her music. The song Red Lipstick also gave Lee Hi chance to do several promotions by performing to music broadcast shows.
Lee Hi Performing Red Lipstick In The Music Broadcast Show
Lee Hi 4 Only Physical Album And The Goods Included
The full-length album "4 Only" also released into a physical copy. AOMG really put great effort in making and designing the "4 Only" album to give their artist the best output. The physical album of "4 Only" have plenty of stuff packed specially made for the fans such as photo cards, artwork sticker, photo book, post cards, and the album cover cards.
Lee Hi On Dingo Killing Voice To Promote The "4 Only" Album
Lee Hi Profile
Lee Hayi or widely known with her stage name, Lee Hi, is a foremost South Korean female singer songwriter under AOMG, a music label established by Jay Park. Lee Hi was the runner-up of SBS' Kpop Star and later after the show ended she signed to YG Entertainment, her previous agency. Lee Hi finally released her third full-length album titled "4 Only" with 10 tracks in total included, bringing winsome featured artists such as B.I, Wonstein and Yoon Mirae.
Listen to Lee Hi 4 Only Spotify and Apple Music