Crush Amoeba Culture Part Ways | Start one man Agency
---
Today, Crush Amoeba culture decide to part ways after Crush contract expiring. It's been 6 years journey for Crush with Amoeba culture.
Crush sign to Amoeba Culture on 2013 after become a trainee on multiple agency that didn't pan out well (TMI: Crush was a duo with cheetah called 'Masterpiece'). Since Joining Amoeba culture, Crush career took off have been one of the digimon (digital monster), every song that Crush release always loved by South Korea citizen and do well in the charts.
Crush IG post translation, leave a message Crush Amoeba Culture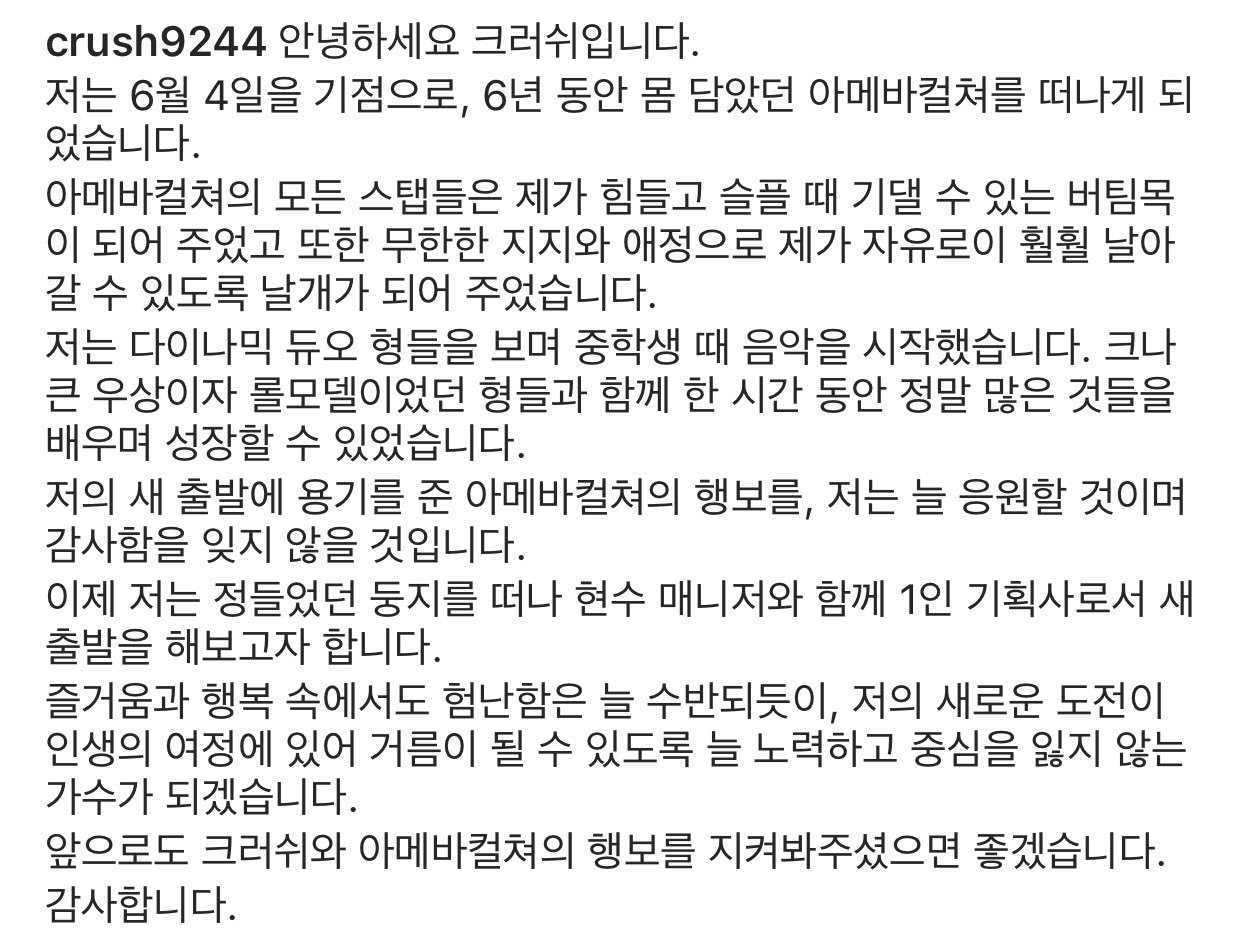 Hello, this is Crush.
On June 4, I will be leaving Amoeba Culture after six years with the family.
All the staff of Amoeba Cultre have been supportive
I always could rely on them whenever if feel down
They give me lots of support and affection over the years
Now have grown my wings to fly freely.
I start making music on middle school & have admired Dynamic Duo that become my idol & role model
Amoeba culture have given me opportunity to  learned many things from them
They also given me the courage to pursue a new start.
Now, I will be leaving my nest 
I gonna start my own one man agency with my manager Hyunsoo (@Panamvo)
Although there will be many new challenge in the future
I will go through it with happiness
I hope you keep an eye on Crush as well as Amoeba Culture in the future
Thank you. 
Crush Amoeba culture track 'Highfive'
Amoeba Culture member
Dynamic duo
Rhythm Power
HA:TFELT
Primary
Philtre
DJ Friz
Yankie
Amoeba culture have part ways with not only Crush but also with former School rapper contestant Bang Jaemin this year.
Crush contract expiring
This is actually have been news since last year in South Korea. Not only in articles, the news of Crush contract with Amoeba Culture expiring become a topic in Weekly Idol & Radio Star.
Crush with Manager Hyunsoo (Panamvo)
From now on Crush start one man agency where he & manager hyunsoo gonna handle their own activities in the future. There's many artist that been doing good as one man agency artist such as Hyolyn, Zico & Junggigo. We look forward to Crush next project !!
Make sure to follow Crush & manager on Instagram so you dont miss out on Crush updates : @Crush9244 ; @Panamvo
We wish all the best wishes for Crush with his new journey !!