Code Kunst Wonjae MBC Dream Radio DJ | Gonna be so fun !!
---
Cokun & Wonjae. The former new member & the former maknae of AOMG  does have a great chemistry. MBC 'Dream Radio' decide to ask them as a special Radio DJ for 2 weeks !!
Code Kunst Wonjae . Beside collaboration in making great music, the two of them also have a great chemistry off the stage !! Now we gonna get more fun content from two of them because they gonna be a special radio DJ for MBC 'Dream Radio' for 2 weeks!!!
MBC Dream Radio actually already have the guest list for the upcoming episode !!
Lee Hi on 4th of February 2019
Killagramz & G2 on 5th of February 2019
Loco on 7th of February 2019
Gaeko on 8th of February 2019

Nucksal on 11th of February 2019

GRAY on 12th of February 2019

Simon Dominic on 13th of February 2019

Haon  on 14th of February 2019

Elo & Pucnhnello on 15th of February 2019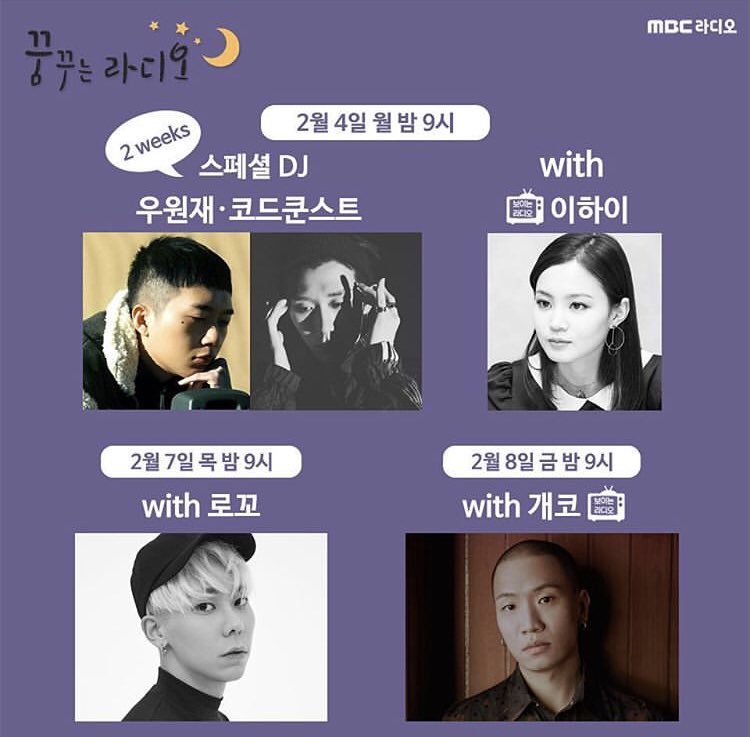 If you want to Listen/watch  the radio you can download the Mini IMBC App on Your phone here : http://mini.imbc.com/index_v3.html?src=http://www.imbc.com/broad/radio/minimbc/index.html
Code Kunst Wonjae Become a Radio DJ with first guest Lee Hi
You can also listen to it by clicking FM4Radio button on the playlist every 10 PM KST from 4th of February – 10th of February 2019.. The 1st episode of Code Kunst & Woo wonjae Radio already air with Lee hi as the guest. Even though you probably mistaken for Hayi as the radio DJ because our shy Cokun & Wonjae is too shy.
Below is some compilation of why the two of them is the perfect combination.
Wonjae poke poke Code Kunst
Cr: IG munchinthepool pic.twitter.com/pnMRW9linP

— D KHH & KRnB (@DKhhrnb) January 14, 2019
Woo Wonjae piggyback Code Kunst
— D KHH & KRnB (@DKhhrnb) November 28, 2018
Code Kunst hide Wonjae new EP ..
— D KHH & KRnB (@DKhhrnb) December 7, 2018
MC Wonjae & Code Kunst on DJ Pumkin CEO inauguration
they rarely talk & yet AOMG give them the MC Job…. pic.twitter.com/FCBEi38Gcn

— D KHH & KRnB (@DKhhrnb) October 26, 2018
Code Kunst & Wonjae meditating
Cr: @ Ann_darc pic.twitter.com/jnc1hIFQcN

— D KHH & KRnB (@DKhhrnb) December 9, 2018
If you want to know more about them you must follow their Instagram : @Munchinthepool  & @Code_kunst , Don't forget also to follow their agency @AOMGOFFICIAL & MBC Dream Radio : @MBCdreamradio on Instagram.
What do you think about Code Kunst Wonjae as Radio DJ ??? Do you think they can pull it off ?? Let's listen & watch the radio every 10 PM KST !!